(It's 3 AM) Issues - EP
Edit
(It's 3 AM) Issues is an EP released by Mindless Self Indulgence in Summer 2008. It includes the radio edit and five remixes of Issues, along with the original and previously unreleased demo of My World.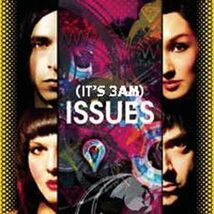 Track Listing
Edit
1. It's Got Issues (Original Radio Mix) - 3:07
2. It's Got Issues (Dinesh Boaz of What What Where Remix) - 3:10
3. It's Got Issues (Million $ Mano Remix) - 3:19
4. It's Got Issues (Rhys Fulber Remix) - 3:32
5. It's Got Issues (Scandy Remix) - 4:30
6. It's Got Issues (Tub Ring's Disco Edison Remix By Rob Kleiner) - 3:27
7. My World (Original Unreleased Demo) - 2:49
Ad blocker interference detected!
Wikia is a free-to-use site that makes money from advertising. We have a modified experience for viewers using ad blockers

Wikia is not accessible if you've made further modifications. Remove the custom ad blocker rule(s) and the page will load as expected.